Welcome
RAYNET (Radio Amateur Emergency Network) is a generic name for groups of licensed Radio Amateurs who provide their time and expertise on a voluntary basis to provide radio communications for community events as well as emergencies and disasters.
There are approximately 5000 members in 250 independent groups across the UK. Licensing regulations allow us to assist various organisations (user Services) with communications for emergency or safety reasons. The list of user Services includes the Red Cross, St Andrews, Scottish Ambulance, HM Coastguard, Salvation Army, The Emergency Planning Officer, the Police, the Armed Forces, and various public utilities.
We use local community events to help us train and keep our operational expertise up to scratch. We also work with other groups within Scotland and throughout the UK. The regular training using these community events puts us in a position to respond rapidly in the event of an emergency and in most situations have a radio network up and running within 60 minutes of being called upon.
Apart from rare emergency situations we usually find ourselves operating on safety grounds at events such as Car Rallys, Mountain Biking events, Marathons and sponsored walks.
We are always on the lookout for new members so if you would like to know more about us and what we do please contact us via our contact page.
If you would like to learn more about RAYNET or would like to join us please contact us via the Contact page.
Flooding Callout 30th Dec 2015
Dumfries and Galloway RAYNET were mobilised by D&G Council on the 30th of December to provide emergency radio communications from Newton
Stewart to Dumfries for their community resilience teams. BT had closed down their local exchange due to flooding of unprecedented levels. This led to a complete loss of fixed and mobile telephones and internet services around Newton Stewart isolating all in the Town but Police, Fire, Ambulance and MRT from any form of voice and data communication with the rest of Dumfries and Galloway.
We got the call at approximately 16:00 Hrs and within 90 minutes we had a team of three at the rest centre in Newton Stewart and three members at the Emergency Planning Bunker radio room with a solid radio link between the two locations using our local repeater GB3DG.
We were stood down at approximately 20:00 Hrs when the waters began receeding and the BT exchange was more or less up and running again with fixed and mobile phones back working but no internet.
Sometimes it can be useful and safe to run a big diesel 4x4 and be a licenced Radio Amateur. It not only makes us a bit more self reliant but allows us to chip in and help others when the going gets a bit tough.
*Image copyright Daily Record*

Dumfries and Galloway RAYNET use Anquet Mapping
Cambret Hill, near Creetown
GB3DG is owned and operated by
Dumfries and Galloway RAYNET
GB3DG - R7 (RV62) 145.775/145.175MHz Tone access: 103.5Hz (G) subcarrier
On the 7th June 2016 the existing Nokia Repeater for GB3DG was replaced by a Yaesu DR-1 System Fusion Repeater. This is a dual mode repeater which can operate in Analogue FM or Yaesu C4FM. It is set to operate in Auto Mode, this enables it to receive and transmit either mode automatically. There are some noticeable differences between the Nokia and the Yaesu repeaters, the Yaesu has a very short squelch tail (approximately 500Ms) there are no long idents and re-set tails. Access is by CTCSS only (103.5) Time out is the same as the Nokia (3 minutes)
GB3DG with MB7UQ APRS Digipeater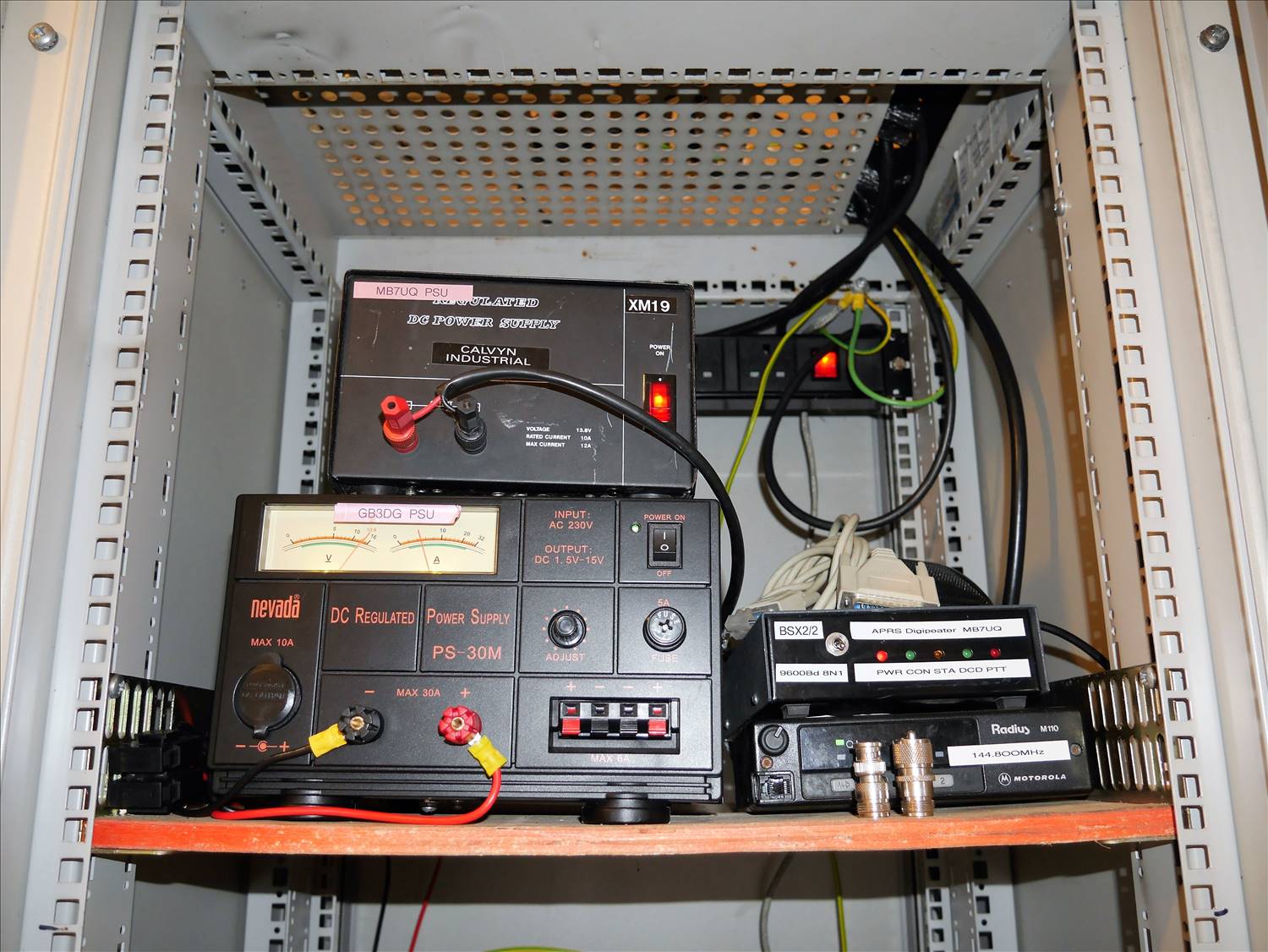 In practice if a user transmits into the repeater using C4FM, it will re-transmit out in C4FM. Anyone listening on analogue FM will hear a sound similar to open squelch, this can be stopped by setting their radio to encode/decode using CTCSS code 103.5. C4FM users will hear the transmission and will also receive other information depending on the C4FM mode.
If a analogue FM user transmits during a C4FM contact the repeater will automatically switch to analogue FM, this will also switch the C4FM users to analogue FM providing they have their radios set to auto.
Currently we are experiencing interference on the repeater (a kind of screech when carrier is dropped) we are working towards clearing this as soon as possible, again setting your radio to encode/decode should relieve some of the interference.